Crazy Cooking Challenge #8
Blueberry Muffins
I was really excited when I found out that this month's challenge was blueberry muffins. My girls and I love muffins for breakfast, and blueberry muffins are one of their favorite kinds. And lucky for me, I knew the recipe I was going to use because I had saved it from awhile back and had just recently pinned it to my
muffin board
on Pinterest.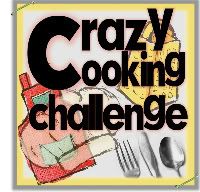 This recipe comes from one of my very favorite foodie blogs,
My Baking Addiction
. I've been reading Jamie's blog for a long time, and not only are her pictures drool worthy, her recipes are not difficult either.
When I think about the perfect breakfast, I picture a cup of coffee with my favorite flavored creamer and a muffin on the side. Since I'm not much of a breakfast person, a muffin tends to be just the perfect amount of food for me in the mornings, and nothing is cheerier than a bright and happy blueberry muffin...that is unless it's a blueberry muffin with a kiss of lime zest in it.
Yield: 12 muffins
1 cup sugar
zest of two limes
2 cups all-purpose flour
1/2 tsp salt
1/2 tsp baking soda
2 eggs
1/2 cup vegetable oil
1 tsp vanilla extract
1 cup sour cream
1 cup fresh or frozen blueberry muffins
coarse sugar, optional ( I couldn't find any in my store)
Pre-heat oven to 400 degrees. Line muffin pan with paper muffin liners.
In a small bowl, combine sugar and lime zest. Mix with clean fingertips until sugar is moistened and fragrant. Set aside.
In a medium bowl, stir together flour, salt, and baking soda. Set aside.
In a large bowl, beat eggs and sugar until mixed together. Continue beating while slowly pouring in the vegetable oil. Add in vanilla.
Stir dry ingredients in egg mixture alternately with sour cream. Gently fold in blueberries. Drop batter into prepared muffin cups and sprinkle with coarse sugar or if your like me, use granulated sugar.
Bake in preheated oven for 20-22 minutes.